Blog
Meet Matt Hartley, HYPR's CRO
Meet Matt Hartley, HYPR's CRO
HYPR Team
3 Min. Read | June 20, 2023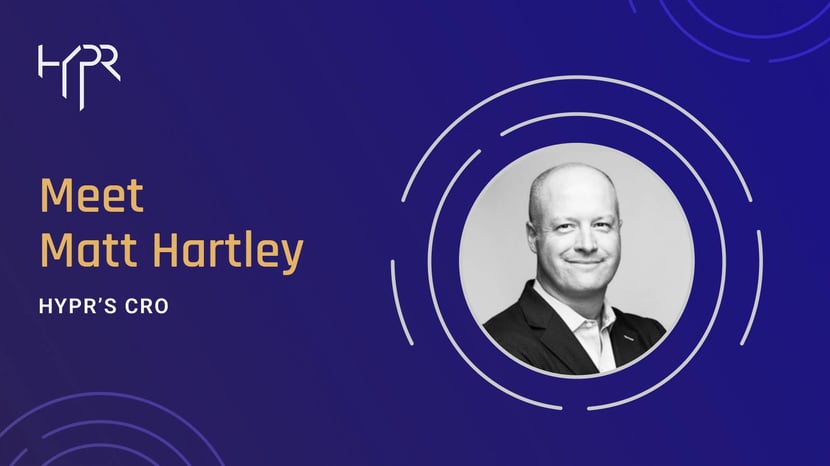 HYPR recently announced the appointment of Matt Hartley as our Chief Revenue Officer. With more than two decades in cybersecurity and technology, Matt brings invaluable expertise in sales leadership and go-to-market strategies to propel HYPR through the next stage of growth.
Prior to joining HYPR, Hartley held senior positions driving rapid scale and predictability across the revenue lifecycle at security organizations including iboss, Forescout, Optio Labs and MobileIron. As Chief Revenue Officer at iboss, Hartley led go to market growth in the SASE/SSE market. During his tenure at Forescout, he built their US Federal unit and then scaled the business as the VP of Americas Sales. Before Forescout, he served as General Manager of Optio Labs, head of Federal sales at MobileIron, and held regional sales positions at various technology companies.
HYPR spoke to Matt Hartley to talk about his new role, the state of the market and why he chose HYPR.
What gets you excited about this role? How do you think your previous roles and experiences prepared you for this position?
MH: I'm excited to join HYPR because the transformations happening in the market, particularly a shift of applications and people off traditional campuses and "perimeters," present security challenges and business opportunities that HYPR uniquely addresses. Identity is a critical market that spans beyond security into risk, HR, compliance and other business-critical functions.
While the security industry has been talking about the importance of identity for years, it rapidly accelerated with the pandemic. We have also seen legacy MFA solutions built on the password collapse under the onslaught of automated attacks. Importantly, we've now reached a point where we have novel solutions that can address the authentication pain point that has been the top vector of breaches for many years.
My experiences to this point have shaped an understanding of the cyber security issues and also how solutions to these problems can create lasting business value for our customers. And HYPR is already leading in that direction with the most demanding customer environments at global scale who attest to the enhanced security of the HYPR platform but also of tremendous productivity gains for their end users.
Why HYPR?
MH: HYPR's vision, culture and world-class talent is what ultimately drew me to the company.
HYPR stood out in its level of expertise, technical breadth and platform approach. I saw a team of collaborative doers, focused on solving problems and moving forward.
Moreover, I understood that HYPR has a proven Identity Platform used by over 16 million users in 125 countries with a transformative roadmap informed by their global clients. HYPR sits in a unique position with control and visibility at the endpoint, browser, and mobile device. This distinctive advantage provides a powerful combination for customers at the point of authentication where many cyber incidents begin today. I am thrilled to join this team as the company enters a next-level growth phase helping more organizations fix the way they log in and create identity trust.
Where do you see the market headed in the coming year, what are some of the major trends and themes we'll see?
MH: We are beginning a sea change in the identity industry. The FIDO standard is being broadly adopted for consumer and enterprise use cases. The support of Apple, Google, and Microsoft for passkeys will certainly accelerate user adoption and acceptance. The transition to passkeys will present challenges and opportunities for the market. Companies will need to make critical decisions about how they implement, use and manage passkey-based authentication. Companies need an identity security partner with expertise in change management and a solution that provides flexibility along with the controls enterprises require. HYPR is already helping organizations accelerate their rollout of passkeys to meet internal and customer demand for modern authentication.
Anything else you want people to know?
MH: The next generation of authentication is here NOW. If you're tired of passwords and want a consumer experience for users that makes logging in a delight, while simultaneously more secure, contact us to have a conversation.